WHO WE ARE
The Coalition of American Structural Engineers represents more than 200 structural engineering firms dedicated to making structural engineering a fair, profitable, and robust industry. CASE offers SEs the opportunity to further develop their businesses through shared best practices, reduced professional liability exposure and increased profitability.
CASE is the recognized authority in the SE industry and the leading provider of risk management and business practice education and information for structural engineering firms.
WHAT WE DO
CASE develops guidelines and contracts that outline best practices, along with extensive risk management tools designed to keep liability in check. CASE is very active with ACEC's advocacy and outreach efforts, especially in post-9/11 liability reform, and maintains established relationships with NCSEA, SEI, and AISC.
OUR MISSION
Reduce claims
Increase profitability
Improve quality
Enhance management practices
WHY YOU SHOULD JOIN
CASE membership gives you access to practical resources and tools that will help you manage risk, draft smarter contracts, learn sound business practices, as you share ideas and information with SE peers.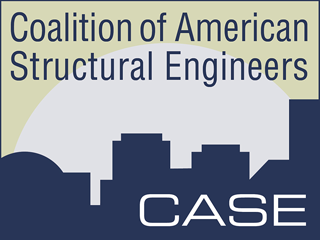 "Being involved with CASE has enhanced our firm in numerous ways...providing documents that help standardize our business practices in areas such as scope of work, specifying for and working with specialty structural engineers, contract language, etc."
Andy Rauch, P.E., SE, LEED AP
BKBM Engineers
Minneapolis, MN