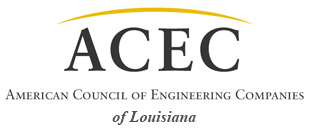 About Us
The American Council of Engineering Companies of Louisiana (ACEC of Louisiana) is the business association of over 150 Louisiana engineering firms providing tools and educational opportunities to become better business owners and managers.
ACEC of Louisiana is a Member Organization of the American Council of Engineering Companies (ACEC).
The organization is committed to advancing the private practice of consulting engineering, enhancing markets for private engineering services, educating the public on the importance of infrastructure investment, and promoting sound business practices within the industry and its client base. We are committed to aggressive involvement in legislative and public sector decision-making, with a focus on protection to qualified-based selection of engineering services, expanded project delivery options, and appropriate legal and liability systems affecting the industry.
ACEC/L is your voice in the Louisiana Legislature, lobbying on your behalf, and crafting legislation designed to protect your business interest and to enhance your business practice. ACEC/L was instrumental in the successful passage of a bill that reduces your peremptive period from seven to five years in the 2003 Regular Session of the Louisiana Legislature. In 2006, ACEC/L spearheaded the passage of House Bill 960, prohibiting the bidding of design professional's services.