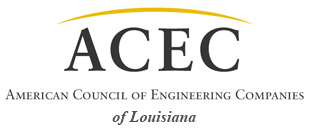 Member Benefits
ACECL members enjoy resources, benefits and access that non-members envy. That may be why Louisiana, despite being one of the smaller states when it comes to the number of engineering firms, has the ninth largest membership of all state ACEC member organizations. Your ACEC membership benefits your firm in a multitude of ways including:
Legislative Advocacy, as ACECL's staff and professional lobbyist monitors dozens of bills every year on issues that affect nearly every aspect of the engineering business and advocating on behalf of and protecting the interests of ACECL member firms. ACECL helped pass and rigorously supports the enforcement of the Hammett Act, which prohibits Louisiana government agencies from using price as a factor in procuring "design professional services." Also, ACECL was instrumental in assisting in the writing and passage of the Construction Management at Risk (CMAR) delivery method of procuring engineering services on public projects.

ACECL also participates in legislative task forces, including panels that studied CMAR and other alternative methods and the recent Transportation Funding Task Force.

Legal Advocacy, as ACECL's General Counsel is a recognized expert on the Hammett Act and multiple legal issues that affect our member firms. All ACECL members have access to the expertise, advice and guidance which has a tremendous impact on our member's profitability. ACECL provides legal intervention on issues important to our members, including public bid laws, professional standards, the ADA and proposed legislation.

Public-Private Partnerships and Professional Involvement, as ACECL has a major voice in the public arena, and we use that voice to further our member firms' interests. Recognizing the need to update state agencies contracting processing procedures, ACECL worked side-by-side with the DOTD on its process and are currently in talks for a similar partnership with CPRA and the Port of New Orleans.

In addition, ACECL literally has "a seat at the table" in many important venues, including the Facility Planning and Control Selection Board and selection boards in East Baton Rouge and Jefferson parishes.

Education and Networking, through membership meetings, which provide forums for sharing ideas and experiences between company leaders and often lead to partnering between companies on major projects in the state. Also, professional development hours (PDH's) can be earned at ACECL Chapter meetings and annual conventions and seminars.

Cost-Effective Insurance Since 1965, the ACEC Life/Health Trust has provided high quality employee benefits and exceptional value to ACEC member firms (1,500 firms and 100,000 members). We have a broad network of providers, plan options, and value-added services as we strive to make engineering the healthiest industry in the United States. Contact us today for more information on how your firm can join the ACEC Life/Health Trust.


For other ACEC discount programs visit: https://www.acec.org/membership/discount-programs/
Contact Janet Tomeny at Jlandry@acecl.org or call (225) 927-7704 for more details.