COVID-19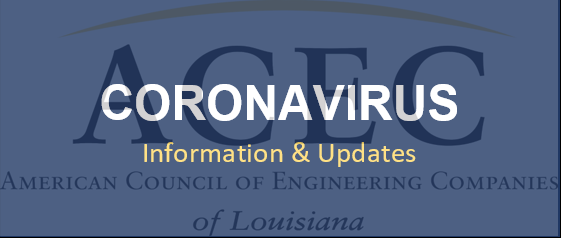 July 2020 CDC Guidline Update

4.13.2020 ACEC Letter to Congress
Letter to DHS relative to adding engineering as a specific essential service
A Message from ACEC President Linda Darr
ACTION ALERT
Support a robust infrastructure agenda to promote economic recovery
Click Here to Contact Your House and Senate Members

ADVOCACY
Coalition Letter to Congress on Workplace Reopening Concern
ACEC Letter to Labor on Workplace Reopening Concerns
PPP Loan Forgiveness DOD Position Paper
PPP -- Oppose DOD Credit Policy
ACEC joins in Industry Letter to Governor Edwards
Industry Letter to Mayor Cantrell
Industry Letter to Mayor Broome
Industry Letter to Mayor Hunter
Industry Letter to Mayor Perkins
Industry Letter to Mayor Mayo
Industry Letter to Mayor President Guillory
Joint Worksite Safety Plan

Daily COVID-19 Updates from ACEC of Louisiana

BUSINESS RESOURCES:
ACT 336 Covid Civil Liability Protection
ACT 336 - Covid Liability Limitation
Updated Return to Work Policy Considerations
**** Model Return to Work Policy ****
ACEC Guide to Returning to Work
Baton Rouge Chamber releases Guide to COVID-related Federal Legislation
COVID 19 Workplace Preparation and Response Policy Template
Is Your Business Pandemic Proof
Small Business Owner's Guide to CARES Act
FFCRA Employee Benefits Poster for posting
La. Economic Development Help Desk for Employers
Sample Authorization to Work Documentation
ACEC BIT Guidance on Working During COVID19
Recap of Families First Coronavirus Response ACT
How Architecture Firms are responding to COVID-19
FAQs relative to COVID19 and employees
IRS Filing and Payment Deadline Q&A
CISA Guidance on Essential Services
MOVEBR Webinar: Tips for Responding to Requests for Qualifications Webinar held on Wednesday, April 15, 2020 are all availavle for download on the MOVEBR website.

GOVERNOR'S PROCLAMATIONS:
Governor's Emergency Extension Proclamation JBE 2020-84.June 25, 2020
Governor's Memo on Title 38 Procurement
LMA Guidance on Title 38 Procurement
Governor's Stay in Place Order JBE 2020-33
STATE ANNOUNCEMENTS:
4.28.20 virtual meeting with DOTD Secretary Shawn Wilson
Link to Secretary Wilson's Presentation
4.30.20 virtual meeting with DOTD Chief Engineer Chris Knotts
DOTD Suspends Traffic Data Collection
DOTD Guidance on Electronic Submissions

FEDERAL ACTION:
COVID-19 Relief and Consolidated Appropriations Act
Summary of Key Provisions
January 8, 2021
PPP Loan Forgiveness FAQs 8.4.2020
Bipartisan Senators Annouce $19.5B Water Infrastructure Proposal
Updated Q&A on the Paycheck Protection Program (PPP)
Federal Affairs Update Podcast 4.9.20
Paycheck Protection Loans: Frequently Asked Questions
Standard PPP Loan Forgiveness App
Supplemental Appropriations Summary
ACEC HR6201 Impact on Employers Webinar Recording
US Dept of Labor Employer Guidance on HR6201 Legislation
Paycheck Protection Program (Three links below)
-Top Line Overview
-Borrower Information
-Application

ACEC COVID 19 Webinar Series:
COVID 19 Affects on Overhead Deadlines, Allowable Costs.
Recording
Navigating Your Small Business Through the COVID-19.

HELPFUL ARTICLES AND NOTICES:
ACEC Wave 7 Business Impact Survey Results
ACEC Week 3 Business Impact Survey Results
ACEC Week 2 Member Impact Study
OSHA Guidance on Preparing Workplaces for COVID19
DHH Interim Guidance for Businesses and Employer

We encourage you to monitor the following websites
for continuing developments and guidance:
Centers for Disease Control and Prevention
LaWORKS (Department of Labor)

More information will be provided daily as it comes available.