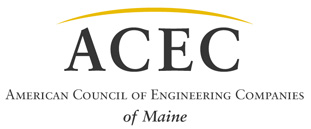 ACEC Maine 2023 Annual Membership Meeting
Please plan to join us for the ACEC of Maine 2023 Annual Membership Meeting. Attendees will receive 2.5 PDH credits, and there will be a Silent Auction to support the ACEC/PAC. A draft agenda follows.
7:45 a.m. Registration and Breakfast
8:30 a.m. Business Meeting
ACEC Board Introductions
Vote on 2022 Annual Meeting Minutes
Review and Approval of Proposed Budget
Vote on Slate of Officers
9:00 a.m. Contracts and Professional Liability Exposures
Gregg Ritter, Clark Insurance
9:30 a.m. President's Address
Dan Diffin, P.E., Sevee & Maher
9:40 a.m. Incoming President's Address
Theresa Patten, P.E., Credere Associates
9:50 a.m. Break
10:00 a.m. National Director's Report
Carolyn Bird, P.E., Casco Bay Engineering
10:10 a.m. Maine State Economist
Amanda Rector, Maine State Economist
11:10 a.m. Closing Remarks
Open Discussion
Adjourn
This meeting is made possible with the support of our sponsors.
If you would like to be a sponsor, please contact Tanya Griffeth at ExecutiveDirector@acecmaine.com.