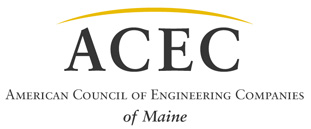 ACEC Maine/Maine DEP Roundtable
The purpose of the roundtable is for the Maine DEP and ACEC of Maine to enhance the professional relationship between the Maine DEP and the private consultants in support of the common goal to provide quality, responsive and cost effective environmental solutions through effective communication and cooperative working relationships.

The goal is to share professional and technical information to make the business conducted together more efficient and productive. This effort will result in improved communications and more effective relationships. Discussions could encompass new rules, contemplated rules, areas of concern, most troublesome areas, what is working right, updates, new from EPA, staff changes, and up and coming issues.
We encourage you to submit discussion topics/questions prior to the meeting. Feel free to email Ryan Wingard at ryan.wingard@wright-pierce.com with any topics or questions.
Please follow this link to register. After registering, you will receive a confirmation email containing information about joining the meeting.