ACEC of Maine Qualified Based Selection (QBS)
ACEC of Maine's QBS Committee is focused on promoting the use of QBS in Maine for procurement of consultants for professional services for the State and municipalities. ACEC supports requiring state and local governments receiving federal funding, including grant and loan programs, for any portion of a project to use QBS.
Contact:
ACEC of Maine
QBS Committee
info@acecmaine.com
The ACEC Research Institute recently commissioned a study of the benefits of QBS in engineering and design services procurement. This study, "Savings, Innovation & Efficiency - An Analysis of QBS in the Procurement of Engineering Services," is an update of one that was published in 2007. A copy of the study is available here.


What is QBS?
QBS is a competitive procurement approach for selecting and retaining design professionals (Architects and Engineers) that emphasizes qualifications to achieve final project performance and ownership cost objectives, which for public good is legally required to be used by government agencies.
In 1972, Congress adopted the Brooks Act (P.L. 92-582), requiring the use of Qualifications-Based Selection (QBS) for the procurement of architect and engineering services. The use of QBS ensures that federal agencies — and the taxpayer — receive highly technical architect and engineering services from the most experienced and most qualified firms at a fair and reasonable cost.
Why QBS?
The low bidder is often the one who proposes to provide the least service, not the firm with the best approach or qualifications. QBS facilitates selection of the most qualified designer to achieve the best final project based on need and budget.
A recent study1 concluded that QBS results in the following benefits:
Ensures Cost-Effectiveness
Hiring the most qualified professional design services provider at a reasonable price is the best way of ensuring that the final constructed project is completed on time and on budget.
Lowers Risk for Complex Projects
Owners expressed special interest in using QBS on projects with higher risk factors and/or higher design complexity.
Results in Better Projects and Highly Satisfied Owners
93 percent of owners surveyed on QBS projects in the study rated the success of their final project as high or very high.
QBS Takes Account of Emerging Societal Issues
The study found that QBS procurements were more likely to address emerging societal needs such as sustainability than cost-based procurements.
QBS Encourages Innovation, Protects Intellectual Property
The study confirms widely-held views that QBS promotes a higher level of innovation.
QBS Supports Owner Capacity Building
QBS allowed owner organizations to gain specialized quality services from design firms as an extension of staff.
1An Analysis of Issues Pertaining to Qualifications-Based Selection
QBS Process
The first step of successful implementation of QBS is to clearly define your needs. A failure to do so may result in a disparity between your expectations and the contracted services.
Once project needs are defined, the seven basic steps for pursuing design work under QBS include:
Public solicitation for architectural and engineering services
Submission of an annual statement of qualifications and supplemental statements of ability to design specific projects for which public announcements were made
Evaluation of both the annual and project-specific statements
Development of a short-list of at least three submitting firms in order to conduct interview with them
Interviews with the firms
Ranking of at least three of the most qualified firms
Negotiation with the top ranked firm
State of Maine QBS
In Maine, state law requires that all State Agencies use QBS. QBS is required for state and local governments receiving federal funding, including grant and loan programs, for any portion of a project. Numerous other organizations and municipalities use QBS because it works.
The Maine state statute dealing with procurement of professional, architectural and engineering services for public improvements by the Bureau of General Services is 5 MRSA Chapter 153. - http://legislature.maine.gov/statutes/5/title5ch153.pdf
Information on Maine State agency procurement requirements are provided at the links below:
Maine QBS Assistance
The Maine QBS Committee is a group of professionals, organized with the mission to educate and assist public officials and public owners on qualifications-based selection process. Here's how we can help you:
Easy to use guides
Downloadable forms
Available to provide guidance in implementing QBS
QBS Presentation
A brief educational presentation of QBS in Maine is provided here.
QBS Forms
Model forms are offered here to assist in the selection process. They may be customized to fit your particular needs, based upon the size and scope of the project.
General Information
Additional general information is available at the National ACEC Qualifications-Based Selection Resource Center at https://www.acec.org/advocacy/qbs/:
QBS Awards Program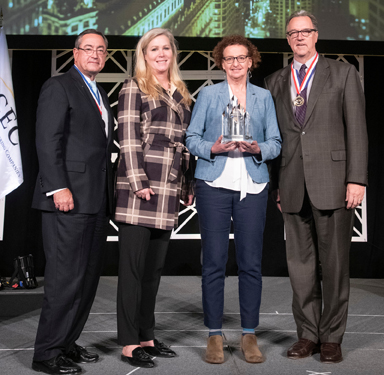 Laurie Leader, PWM Airport Engineer, accepting the 2019 QBS Award at the ACEC National Fall Convention
ACEC and National Society of Professional Engineers (NSPE) partnered to create the QBS Awards Program. The QBS Awards Program recognizes public and private entities that make exemplary use of the QBS selection process at the state and local levels.
ACEC and NSPE present a grand QBS award each year in each of two categories:
Non-Governmental Sector
Governmental Sector
Non-Government entities include private corporations, privately-funded research labs, private utility companies, design professionals, construction contractors, developers and any non-government entity that uses design professional services on a regular basis.
Government entities include states, municipalities, local governments, departments or agencies of government, school districts, university systems, public utility systems, airports, research laboratories (if publicly funded), special purpose districts, and the like.
Portland International Jetport: Maine Recipient of the ACEC/NSPE QBS Award 2019 (Paul Bradbury, Airport Director):
The International Portland Jetport received the 2019 ACEC/NSPE QBS Award for Design Professional Procurement Practices for its established QBS process for selection of design professionals in accordance with FAA requirements. The Jetport's process delivers high quality and cost-effective services for Maine taxpayers, and a fair and transparent process for selection of AE services based on qualifications only.
Call for Nominations
A call for award nominations is usually sent out to the ACEC Member Organizations in December. Following review of the nominations and selection of the winners, the winners receive an engraved trophy and are honored at an awards ceremony at either the ACEC or NSPE Annual Conference.
In addition to the two QBS Awards, the QBS Awards program will designate up to four Merit Award winners, who will be presented a plaque locally, at an event coordinated by the PEPP State Chair and the ACEC Member President.
ACEC of Maine are looking for nominations for the QBS Award 2022. The criteria for award is provided in the nomination form: QBS Award | National Society of Professional Engineers (nspe.org).