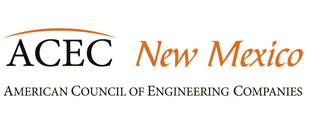 About ACEC NM
Who We Are
The American Council of Engineering Companies New Mexico (ACEC New Mexico) is a member organization under the American Council of Engineering Companies (ACEC). The national ACEC organization, headquartered in Washington, DC, is a federation of 51 state and regional councils representing more than 600,000 engineers, architects, land surveyors, and other specialists.
ACEC New Mexico is comprised of Member Firms, Associate Members, and Affiliate Members involved in the independent private practice of consulting engineering. The organization provides its members key industry information and contacts, networking opportunities, special events, and business development opportunities.

ACEC New Mexico Mission Statement
The Leading Voice for the Consulting Engineer.

ACEC New Mexico Core Purpose
Strengthen and promote the New Mexico business environment for consulting engineers.

ACEC New Mexico Core Values
Promote and protect Qualifications-Based Selection (QBS) in the procurement of professional services
Protect the sustainability and success of engineering companies
Improve the quality of life through the application of science, technology, and innovation
Protect the health, safety, and welfare of the public in the built environment
Promote sustainability in the natural and built environments
Adhere to a high level of ethical conduct in business practices
Encourage the development of future leaders within the industry
Meetings

Monthly Membership Meetings
Monthly membership meetings are typically held the fourth Tuesday of each month.

Board of Directors Meetings
Board meetings are held on the second Friday of every month.
Governance
ACEC New Mexico is governed by its Bylaws and Board of Directors:
President
Hal Byrd
NV5
6501 Americas Pky NE Suite 400
Albuquerque NM 87110
505.348.5182
President-Elect
Debra Hicks, PE/LSI
Pettigrew & Associates
100 E Navajo Dr Suite 100
Hobbs NM 88240
575.323.0482
National Director
Rebecca Fink, PE
Smith Engineering
2201 San Pedro NE Bldg 4 Suite 200
Albuquerque NM 87110
505.884.0700
Past President
Albert Thomas, PE
Bohannan Huston
7500 Jefferson St NE
Albuquerque NM 87109
505.823.1000
State Director
Daniel Aguirre, PE, CFM
Wilson & Company
4401 Masthead St NE Suite 150
Albuquerque NM 87109
505.348.4000
State Director
Howard Cake, PE
TYLin International
500 4th St NW Suite F403
Albuquerque NM 87102
505.247.2646
State Director
Audra Gallegos, PE
Wilson & Company
4401 Masthead St NE Suite 150
Albuquerque NM 87109
505.348.4000
State Director
Jim Honea, PE
Jacobs
3721 Rutledge Rd NE Suite B-1
Albuquerque NM 87109
505.884.5600
State Director
Ross Lujan, PE
TYLin International
500 4th St NW Suite F403
Albuquerque NM 87102
505.247.2646
State Director
Gundar Peterson, PE
Daniel B. Stephens & Associates
6020 Academy NE Suite 100
Albuquerque NM 87109
505.822.9400
State Director
Andrew Sutliff, PE
WSP USA
2440 Louisiana Blvd NE Suite 400
Albuquerque NM 87110
505.878.6573
Young Professional
Jordan Chavez, PE, CFM
HDR
2155 Louisiana NE Suite 3000
Albuquerque NM 87110
505.830.5409
Executive Director
Dawn Tibbetts
ACEC New Mexico
PO Box 3773
Albuquerque NM 87190
505.888.6161
acecnm@acecnm.org