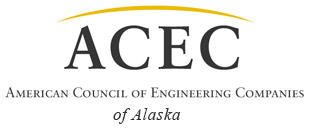 Committees
ACEC Alaska includes several committees that work to coordinate local entities to advocate for the engineering community. Descriptions of the various committees are included below. If you're interested in getting involved, please contact us. We're always looking for members for our committees and task forces.
We regularly notify clients who bid A/E services that there are alternative means to securing professional services than cost-based professional services. In several situations, we have been successful in having the Owner modify selection criteria to remove cost as a criteria for award.
Chair: Andrea Story, R&M Consultants
Identify, host, and promote programs that provide training, resources, and other tools to aid in best business practices for consulting firms. Potential topics and areas of focus include contracts, project management, and health and professional liability insurance through ACEC.
Chair: Aaron Christie, DOWL
Promote the legislative interest of ACEC-Alaska through a legislative program designed to assist members in meeting their legislators, review, monitor, and propose legislation pertaining to the business of consulting and/or the various disciplines relating to the field of engineering and inform committees and members of legislation that affects the Council.
Co-Chairs: Mike Rabe (CRW Engineering Group) and Len Story (R&M Consultants)