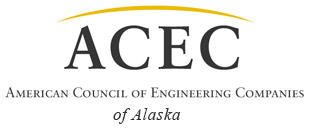 ACEC Alaska Annual Luncheon Summit
May 3, 2023
Join ACEC Alaska for its 2023 Annual Luncheon Summit. Come network with other members of the industry and learn how ACEC Alaska can benefit you and your firm through the following updates:
The president of ACEC Alaska will give updates about last year's accomplishments, the initiatives for next year, ways members can get involved, and how ACEC Alaska can better help the member firms. He will also welcome the newest member of the ACEC Alaska board.
The education chair will update on the recent education sessions and future sessions that will benefit the members of ACEC Alaska.
Gary Hartong, National Vice-Chair and representative to ACEC Alaska, will be giving an update on National's accomplishments and goals for next year.
The event is free, but registration is required.